Household Food Insecurity in Canada in 2021 Webinar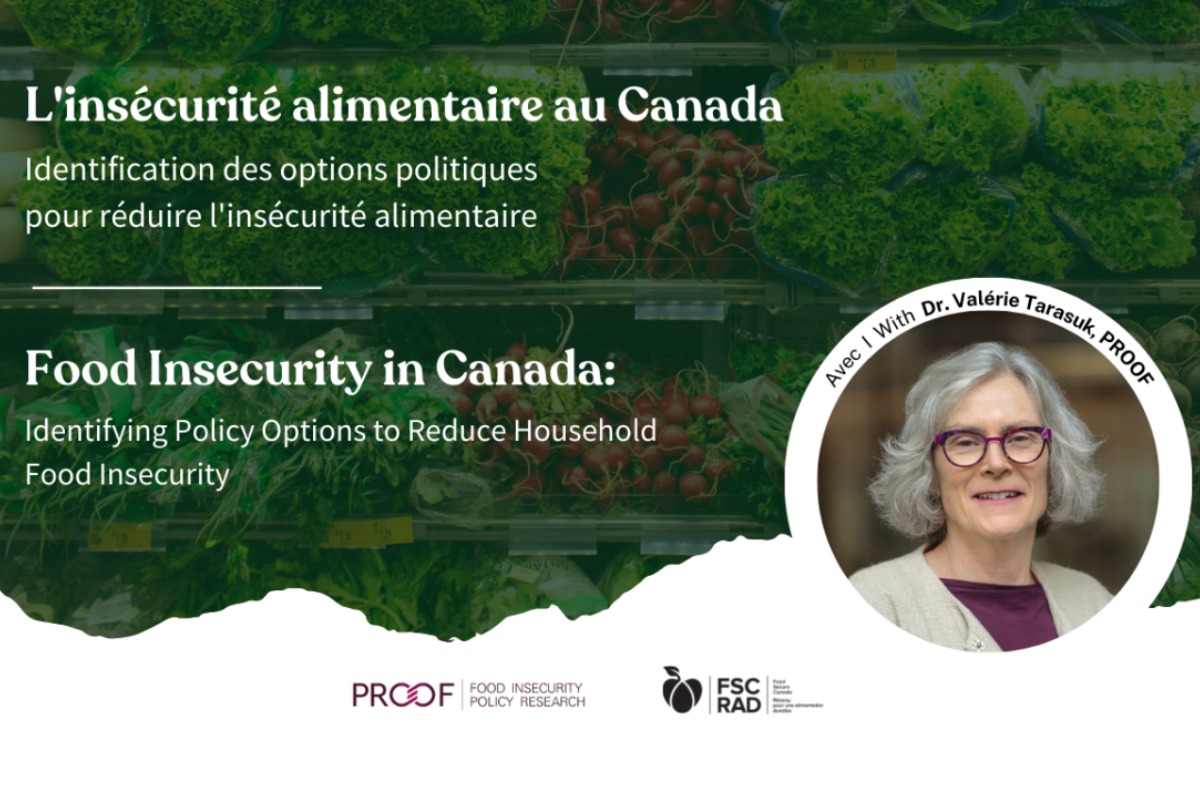 In this Food Secure Canada webinar focusing on the findings of our 2021 status report, Dr. Tarasuk discusses the current state of food insecurity in Canada, who are most at risk, and the evidence-based policy interventions that reduce food insecurity by improving the financial resources of low-income households. Speakers also included Byron Beardy (Four Arrows Regional Health Authority), Kristina Craig (Yukon Anti-Poverty Coalition), and Afua Asantewaa (Food Secure Canada).
Presenter:
Valerie Tarasuk, PhD — Professor, University of Toronto
Resources:
Webinar Slides (EN)
Webinar Slides (FR)
We thank all the attendees for their thoughtful questions during the webinar. In this webinar follow-up document, we've brought together key takeaways from Dr. Tarasuk's presentation, links to additional resources, a list of references for research cited, and a summary of key ideas and next steps for research and advocacy based on the questions we received.
Webinar follow-up (EN)
Webinar follow-up (FR)
Key Takeaways:
In 2021, almost 1 in 6 households in the ten provinces were food-insecure. That translates to 5.8 million people, including 1.4 million children, living in households with inadequate or insecure access to food, prior to this current period of record inflation.
Household food insecurity indicates pervasive material deprivation. By the time a household is struggling to put food on the table because of a lack of money, they are also compromising other basic needs like housing and prescription medication.
The sociodemographic profile of food-insecure households reflects the patterns of social and economic disadvantage in Canada. The households most at risk are those with low income, few assets, renting, lone parents, identifying as Indigenous or racialized, and reliant on social assistance or Employment Insurance.
Household food insecurity is a serious public health problem because it is tightly linked with so many adverse health outcomes. Because of its toxic effects on health, it also places a substantial burden on our health care system and expenditure.
Food insecurity is sensitive to interventions that improve low-income households' incomes. Research on various federal and provincial policies, including child benefits, social assistance, minimum wage, and public old-age pensions show that policies reduce food insecurity when they provide low-income households with more money.
The risk of food insecurity depends in part on which province or territory you live in Canada. Research has highlighted the important roles that provincial and territorial governments play in protecting their populations from food insecurity, through policies like minimum wage, welfare, and taxation.
The evidence does not support food subsidies as a way to address food insecurity. Food insecurity has worsened in Nunavut following the introduction of Nutrition North, the federal food subsidy program for remote Northern communities, and remains a massive problem despite continued investment.
The evidence does not support publicly funded school food programs as a way to address food insecurity, in light of other policy options, like child benefits, that tackle the income inadequacy underlying food insecurity and would more effectively reduce rates in Canada.
Reducing household food insecurity requires the commitment of public revenue and resources to ensure that income supports for low-income, working-aged Canadians and their families are adequate, secure, and responsive to changing costs of living, irrespective of their income source.