Video: Household Food Insecurity in Canada, 2022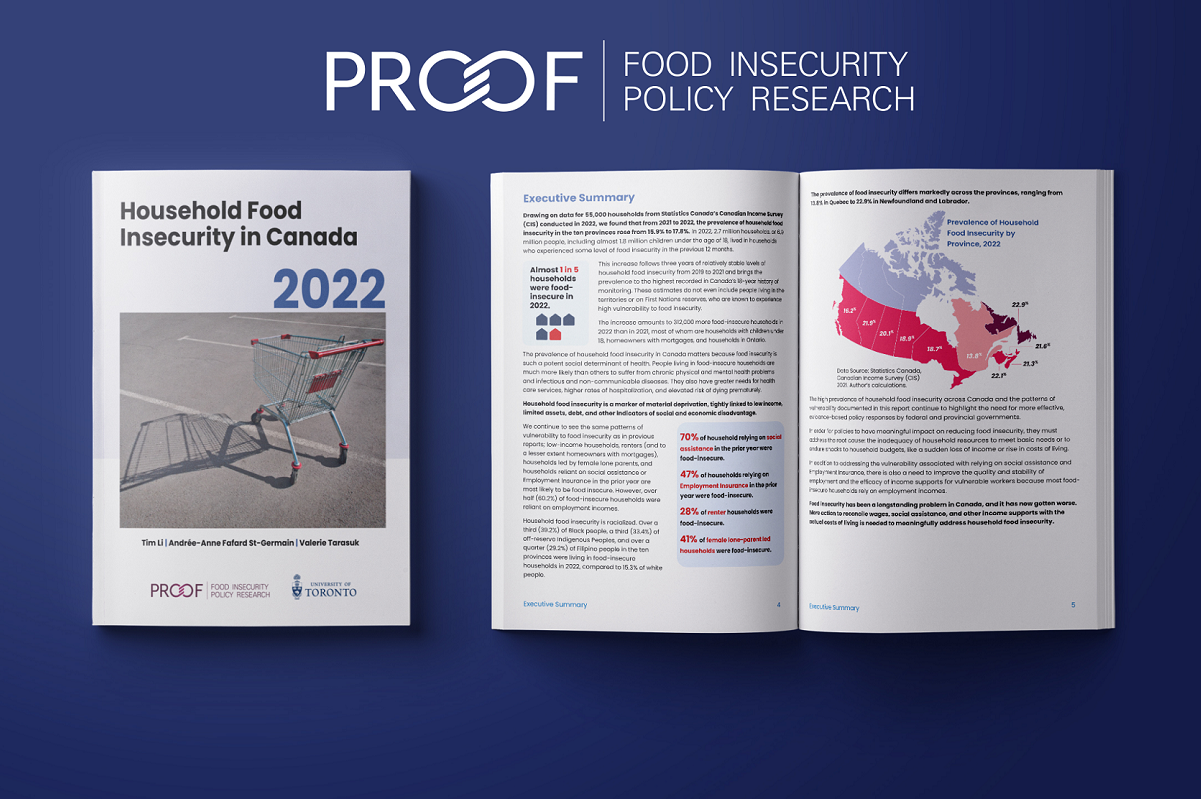 In this video, we highlight some of the key findings and takeaways from our report, Household Food Insecurity in Canada, 2022.
Transcript
In 2021, 5.8 million people in the ten provinces lived in a food insecure household. In 2022, that number rose to 6.9 million people, which includes almost 1.8 million children.
When we talk about household food insecurity in Canada, we're talking about the inadequate or insecure access to food due to financial constraints.That means almost 1 in 5 households experienced some form of food insecurity, from worrying about running out of food before there is money to buy more to the most extreme cases, not eating for whole days because of a lack of money.
This is the highest rate of food insecurity recorded in Canada's 17 years of monitoring this problem.
These estimates do not even include people living in the territories or on First Nations reserves, who are known to experience high vulnerability to food insecurity.
Food insecurity has worsened in every province with the rates ranging from 14% in Quebec to 23% in Newfoundland and Labrador.
Although food insecurity is often thought to be a food problem, the deprivation experienced by households who are food insecure is not limited to food. Rather, food insecurity is a marker of much more pervasive material deprivation.
Interventions that focus on food and not households' financial circumstances miss the bigger picture. Solving this problem will requires addressing the root causes. Food insecurity is driven by the inadequacy of household resources — both for meeting basic needs and enduring shocks to household budgets without compromising on necessities. That means having enough money to manage a sudden drop in income or a rise in costs of living.
There is a lot that governments can do to address this problem. It starts with recognizing that the policy levers that matter most are the income policies meant to assist low-income households, like social assistance, minimum wage, child benefits, and other supports. Food insecurity is a policy choice. By not doing more to improve the adequacy and stability of household incomes, policymakers are choosing to let food insecurity persist and grow.
These decisions matter so much because food insecurity is so tightly linked to adverse health outcomes, greater need for health care services, and elevated health care costs.
We can reduce food insecurity, but only if we take policy action that focuses on ensuring employment and social protections provide sufficient and stable incomes.
Read our new report, Household Food Insecurity in Canada, 2022, for more on information and our policy recommendations.