Household Food Insecurity in Canada, 2022
How to cite this document:
Li T, Fafard St-Germain AA, Tarasuk V. (2023) Household food insecurity in Canada, 2022. Toronto: Research to identify policy options to reduce food insecurity (PROOF). Retrieved from https://proof.utoronto.ca/
Read the commentary, Food insecurity in Canada is the worst it's ever been — here's how we can solve it, in The Conversation.
About Report
Drawing on data for 55,000 households from Statistics Canada's Canadian Income Survey (CIS) conducted in 2022, we found that from 2021 to 2022, the prevalence of household food insecurity in the ten provinces rose from 15.9% to 17.8%. In 2022, 2.7 million households, or 6.9 million people, including almost 1.8 million children under the age of 18, lived in households who experienced some level of food insecurity in the previous 12 months.
This increase follows three years of relatively stable levels of household food insecurity from 2019 to 2021 and brings the prevalence to the highest recorded in Canada's 17-year history of monitoring.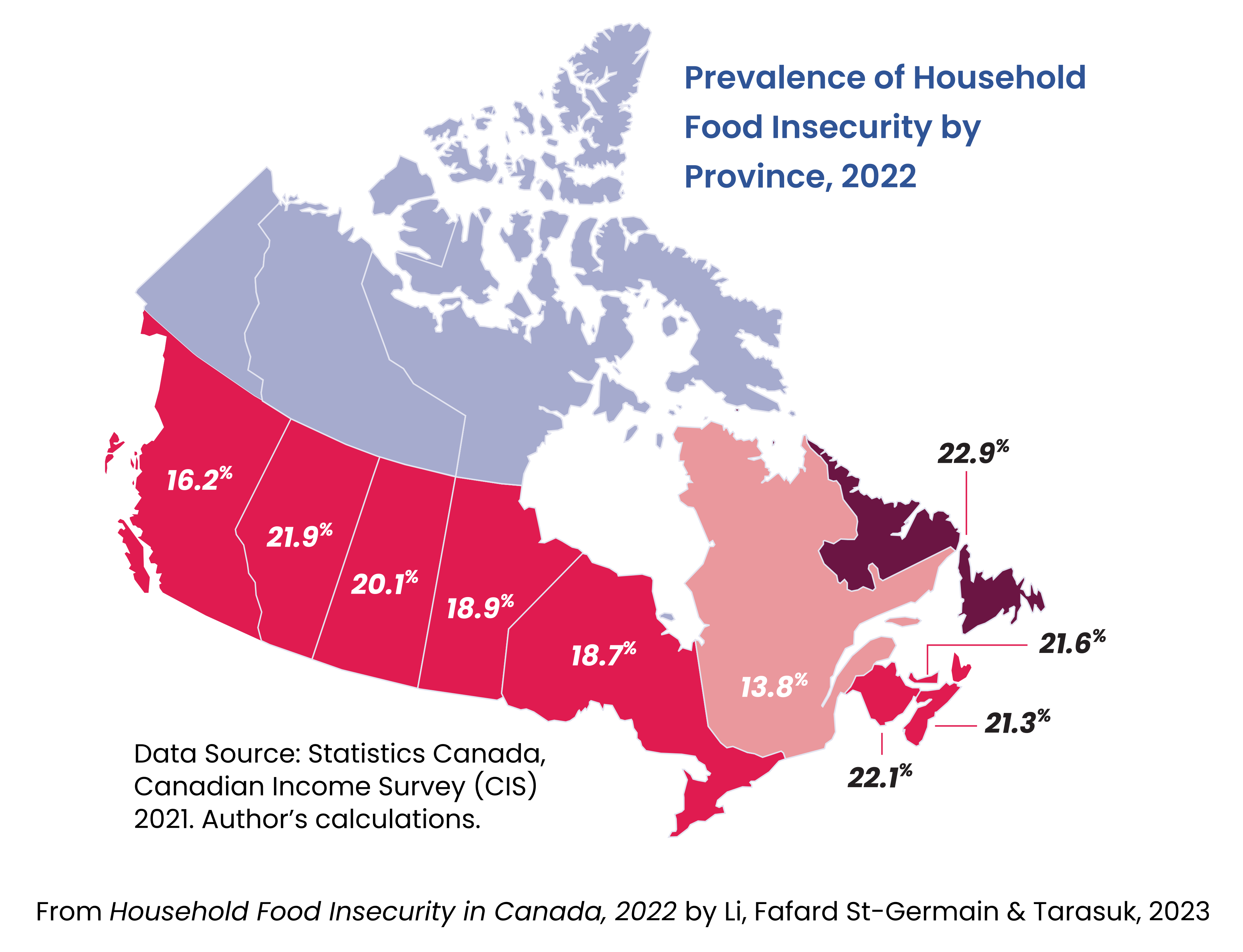 Statistics Canada released food insecurity statistics based on the same data in May 2023. This report differs from their reporting by focusing primarily on household-level rather than individual-level statistics. It provides an in-depth exploration of food insecurity with additional descriptions and analyses of sociodemographic and economic characteristics and year-to-year change
Over the decade that we've produced these reports, we've seen public awareness of food insecurity statistics grow. However, we have yet to see widespread recognition of food insecurity as a potent social determinant of health that is only alleviated by improvements to households' broader financial circumstances.
Policymakers need to prioritize food insecurity reduction and implement interventions that target the root causes of household food insecurity, and not its symptoms. Reducing food insecurity will require concerted, collaborative efforts by federal and provincial governments to reconcile incomes, and other financial resources like assets, with the actual costs of living.
The PROOF status reports are protected under a
Creative Commons Attribution-NonCommercial 4.0 International License
that allows you to share, copy, distribute, and transmit the work for non-commercial purposes, provided you attribute it appropriately to the original source. Please see
Licensing & Attribution
for more information.