What is food insecurity?
---
Household food insecurity is the inadequate or insecure access to food due to financial constraints. It is a serious problem in Canada that negatively impacts physical, mental, and social health, and costs our healthcare system considerably.

In 2017-18, 1 in 8 households in Canada was food insecure, amounting to 4.4 million people, including more than 1.2 million children living in food-insecure households.1
Household food insecurity in Canada is measured by Statistics Canada using the Household Food Security Survey Module (HFSSM) on the Canadian Community Health Survey (CCHS). The HFSSM consists of 18 questions about the experiences of food insecurity, ranging from worrying about running out of food to going whole days without eating, due to financial constraint. Based on a household's experience, food insecurity can be categorized into 3 categories:
Marginal food insecurity: Worry about running out of food and/or limited food selection due to a lack of money for food.
Moderate food insecurity: Compromise in quality and/or quantity of food due to a lack of money for food.
Severe food insecurity: Miss meals, reduce food intake, and at the most extreme go day(s) without food.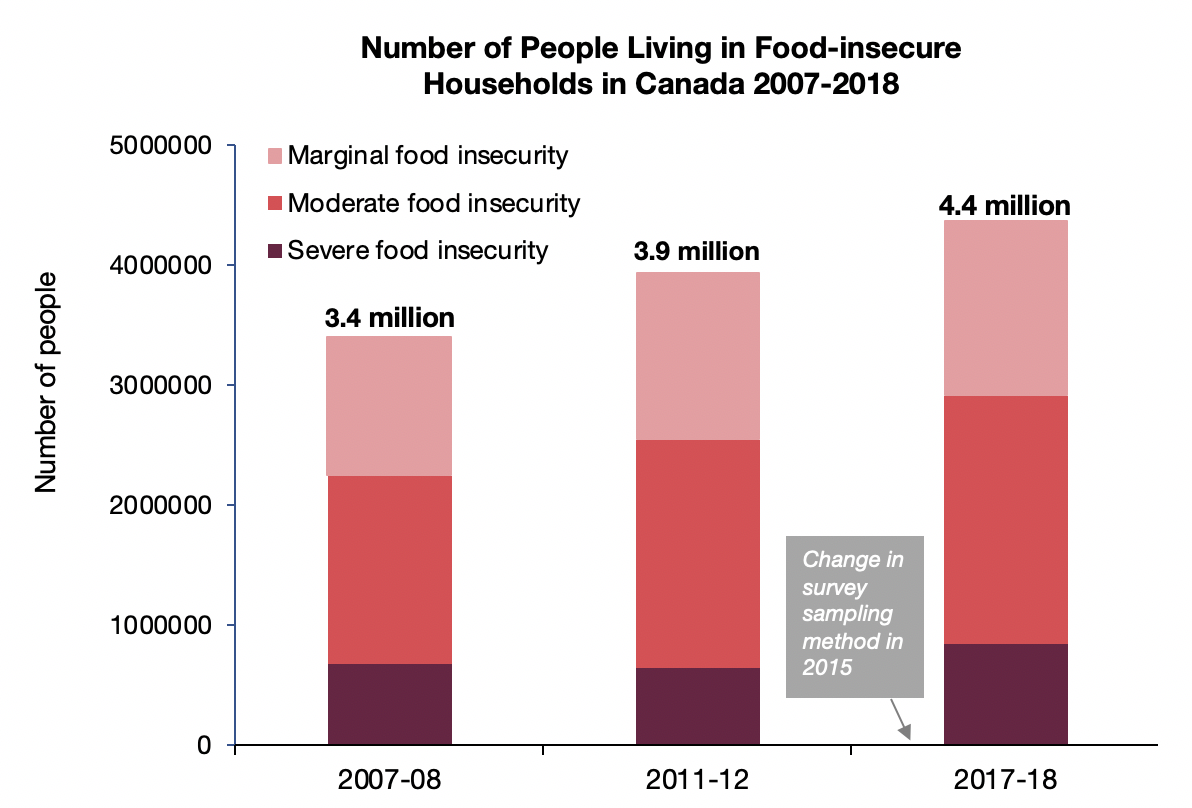 Data Source: Statistics Canada, Canadian Community Health Survey (CCHS) 2007-08, 2011-12, 2017-18
While the CCHS is conducted every year, complete national data are only available for 2007-08, 2011-12 and 2017-18, and a change in the sampling method between these last two cycles complicates comparisons across survey cycles. However, the number of people living in food-insecure households in 2017-18 is higher than any recorded previously.
Food Insecurity by Province or Territory 
---
In 2017-18, Nunavut had the highest prevalence of food insecurity (57.0%) followed by the Northwest Territories (21.6%) and Yukon (16.9%). The lowest prevalence of household food insecurity was in Quebec, at 11.1%. 84% of people living in food-insecure households in 2017-18 were in one of four provinces: Ontario, Quebec, Alberta, or British Columbia.1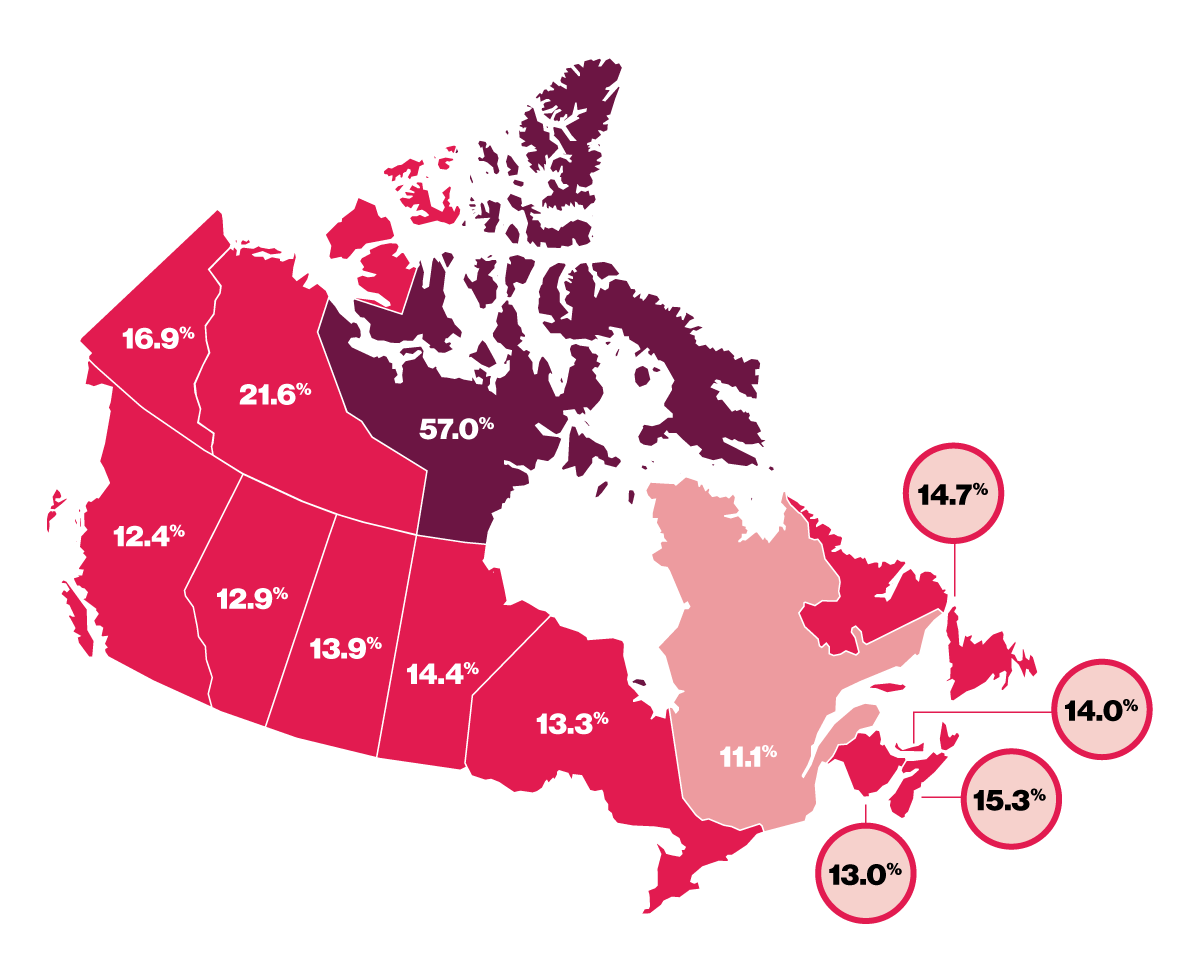 Data Source: Statistics Canada, Canadian Community Health Survey (CCHS), 2017-18
Due to changes in the CCHS in 2015, the results from 2017-18 are only directly comparable to those from the 2015-16 cycle. Ontario, Newfoundland and Labrador, and Yukon chose not to measure food insecurity among their populations in the 2015-16 cycle which is why there is no national 2015-16 estimate. Comparing 2015-16 data to 2017-18, the only significant change in prevalence was in Quebec where food insecurity fell from 12.7% to 11.1% in 2017-18.1
Prevalence of Household Food Insecurity by Province/Territory 2015-16 and 2017-18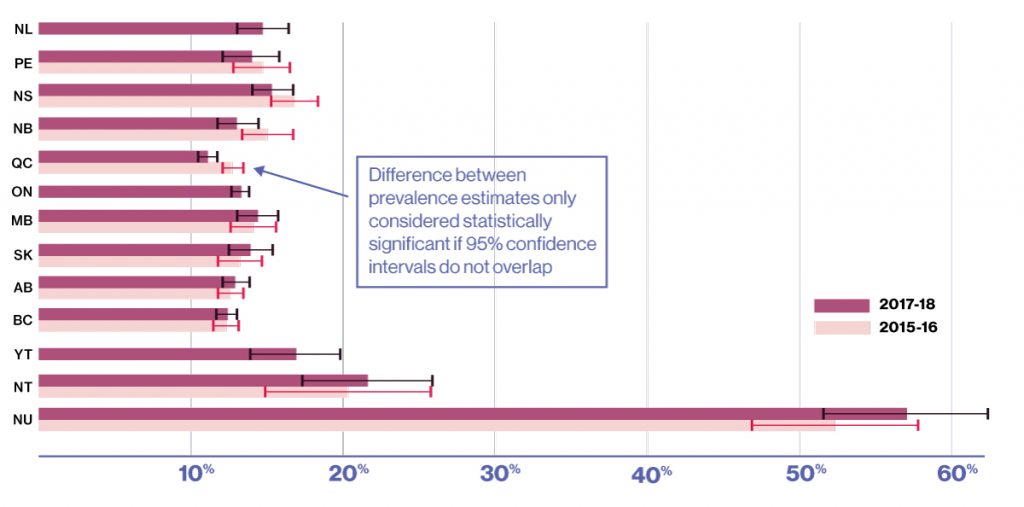 Data Source: Statistics Canada, Canadian Community Health Survey (CCHS), 2015-16 and 2017-18.
Which households are most vulnerable to food insecurity?
---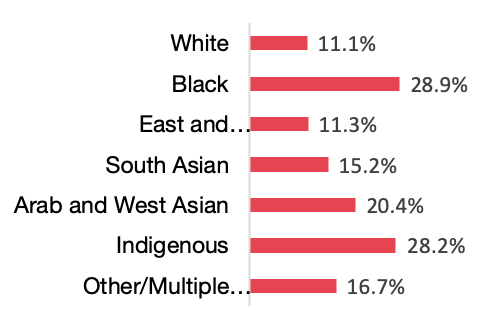 The prevalence of household food insecurity differs markedly by Indigenous status and racial/cultural group. The highest rates of food insecurity are found among households where the respondent identified as Indigenous or Black.1
---
---
---
---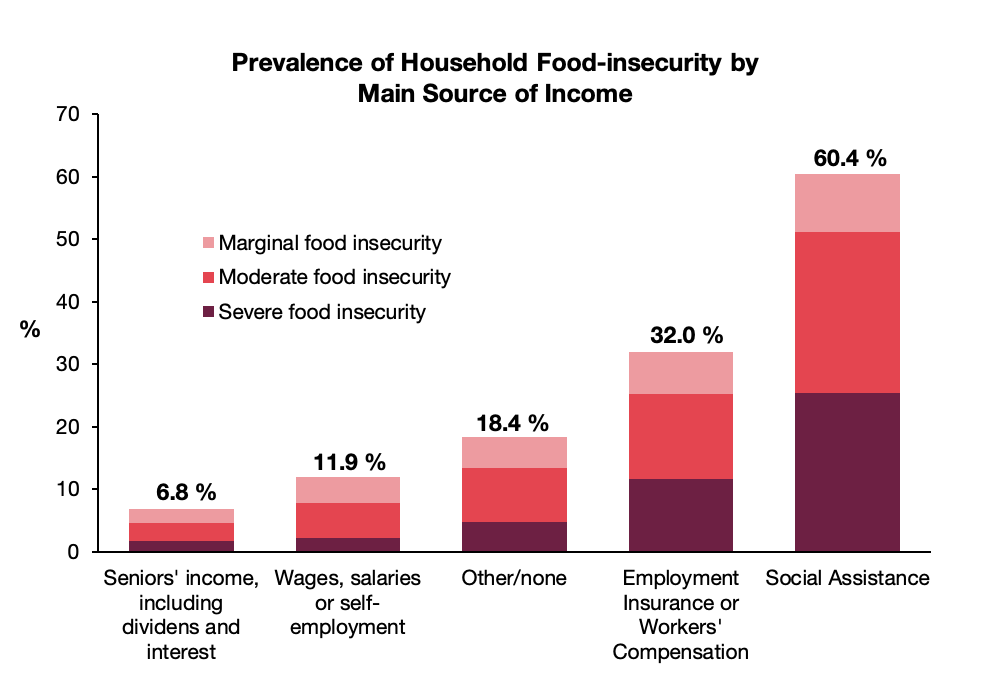 Data Source: Statistics Canada, Canadian Community Health Survey (CCHS), 2017-18
Food insecurity takes a tremendous toll on people's health and the healthcare system.
---
Food insecurity is associated with increased nutritional vulnerability in Canada. Adults and adolescents in food-insecure households in Canada are more likely to experience nutrient inadequacies and have poorer diets, with lower intakes of milk products, fruits, and vegetables compared to people who are food secure.8 However, the impact of food insecurity on health extends beyond diet and nutrition.
Food insecurity leaves an indelible mark on children's wellbeing. Experiencing food insecurity at an early age is associated with childhood mental health problems, such as hyperactivity and inattention.9 Experiences of hunger in childhood increase the risk of developing asthma, depression, and suicidal ideation in adolescence and early adulthood.10, 11, 12
Adults living in food-insecure households report poorer physical health and are more vulnerable to a wide range of chronic conditions, such as diabetes, heart disease, hypertension, arthritis, and back problems.13, 14, 15, 16 They are also more likely to be diagnosed with multiple chronic conditions.17 Additionally, adults with mobility impairments appear to be disproportionately affected by food insecurity.18
There is a particularly strong relationship between food insecurity and poor mental health.19, 20 The risk of experiencing depression, anxiety disorder, mood disorders, or suicidal thoughts increases with the severity of food insecurity.21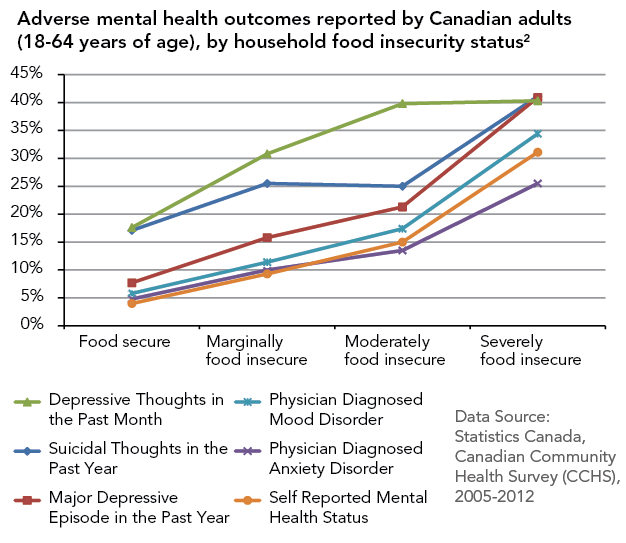 (Jessiman-Perreault & McIntyre, 2015)21
Food insecurity also makes it difficult for individuals to manage existing chronic health problems, such as depression, diabetes and HIV, and it can lead to worsening conditions.22, 23, 24, 25 Food insecure individuals may struggle to adhere to therapeutic diets or forego necessary medication because of the expense.26
The health consequences of food insecurity are a large burden on our healthcare system.22, 27, 28 Healthcare costs are considerably greater for food insecure households, rising in a step-wise fashion with more severe food insecurity.27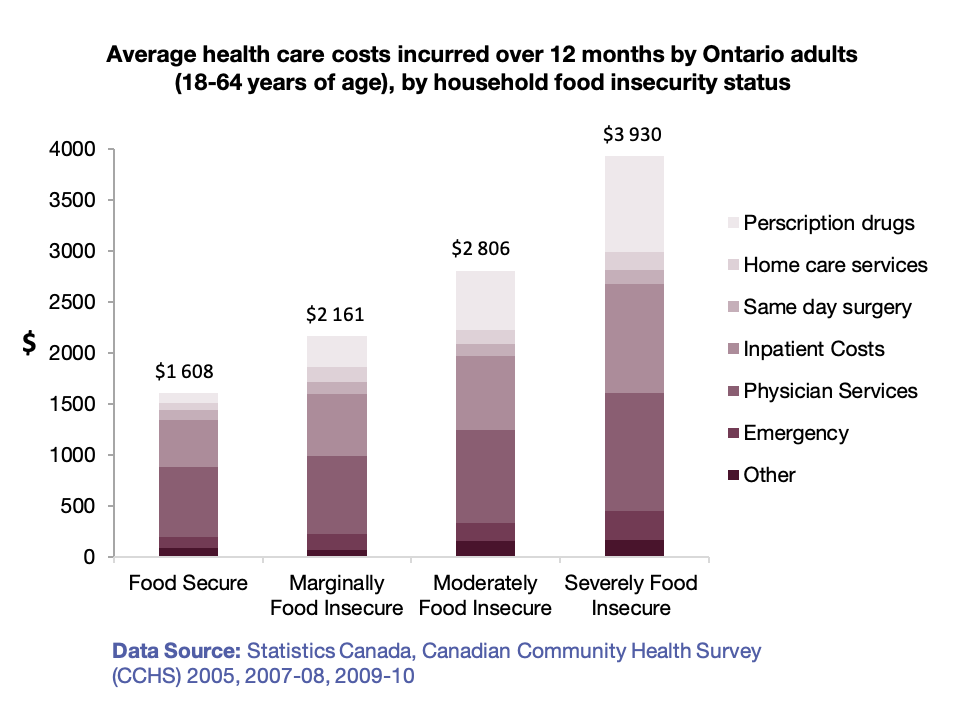 (Adapted from Tarasuk, Cheng, de Oliveira, Dachner, Gundersen & Kurdyak, 2015)27
Even after adjusting for other well-established social determinants of health, such as education and income levels, the healthcare costs incurred by a severely food insecure adult in Ontario are more than double that of a food secure adult.27 These findings imply that addressing food insecurity could offset considerable public expenditures on health care in Canada and improve overall health.
Food Insecurity and Mortality
Premature mortality is among the most serious health consequences of food insecurity. Adults experiencing food insecurity are more likely to die prematurely than their food-secure counterparts.29, 30 The average lifespan is nine years shorter for severely food-insecure adults than for food-secure ones.29
Kaplan-Meier survival curve on all-cause premature mortality by household food insecurity status among Canadian adults,18-82 years old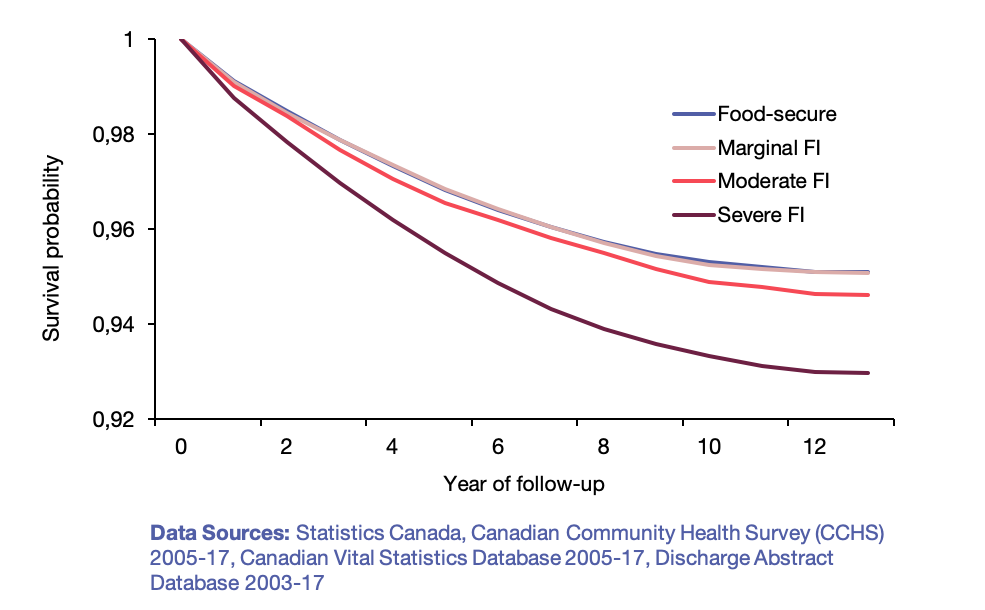 (Adapted from Men, Gundersen, Urquia & Tarasuk, 2020)29
Non-communicable diseases account for the great majority of premature deaths in Canada, and this is true irrespective of one's food insecurity status.29 Severe food insecurity is associated with higher risk of premature mortality of all causes except cancers; the association is especially strong for deaths from infectious-parasitic diseases, unintentional injuries and suicides.29 Given this pronounced relationship, it is important to consider food insecurity status as a relevant social determinant of premature mortality.29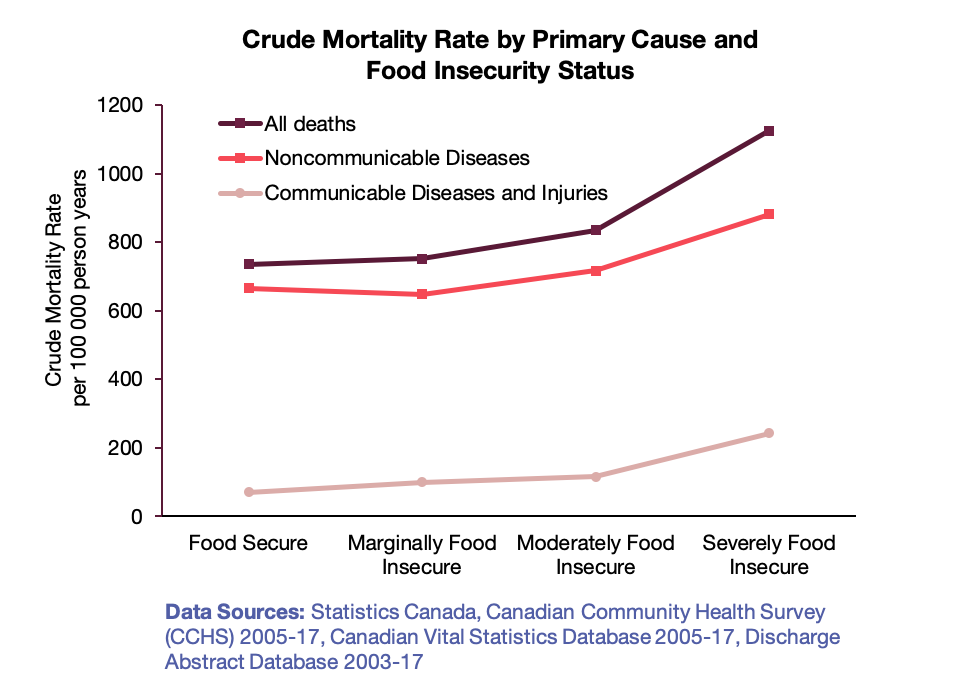 (Adapted from Men, Gundersen, Urquia & Tarasuk, 2020)29
Food insecurity is not a problem of food skills or shopping behaviours.
---
An analysis of national survey data from Statistics Canada found that adults in food-insecure households report having food preparation and cooking skills comparable to those in food-secure households.31 In fact, most Canadians consider themselves skilled at food preparation, and very few Canadians (2%) report not knowing where to start when it comes to cooking, regardless of food insecurity status. This research also found that food preparation and cooking skills were not associated with food insecurity – adults that were more proficient in these skills were not any more likely to be food secure.31
Self-rated cooking ability by household food insecurity status

(Huisken, Orr & Tarasuk, 2016)
Adults in food-insecure households are 4 times more likely to report using a budget when shopping for food, but do not differ in terms of other shopping behaviours, like using a written grocery list, planning meals before shopping, or using Canada's Food Guide.31
Although adults in food-insecure households are less likely to garden for food, there is also no indication that gardening for food protects households from food insecurity. Adults that gardened were as likely to be food-insecure as those that didn't.31 This research suggests that interventions like programs aimed to improve food and budgeting skills or community gardens are unlikely to impact food insecurity rates in Canada.
Food insecurity and Income
---
Household food insecurity in Canada is tightly linked to income. As a household's income declines, the risk of food insecurity increases. However, it is not a perfect one-to-one relationship. Food insecurity reflects a household's broader material circumstances, taking into account income, assets like property, and other resources a household could draw upon.

Severe food insecurity is particularly sensitive to income. Households with very low incomes are at much higher risk of being severely food insecure.
It is critical to address this high risk, given the greater negative health impact and healthcare costs associated with severe food insecurity. Modest changes to income can have a considerable impact on their risk of food insecurity.
In addition to income, housing tenure is an economic risk factor for food insecurity. Studies have repeatedly found that households owning their home have a decreased vulnerability to food insecurity compared to renters. As expected, however, the level of protection afforded by homeownership is lower for those with a mortgage than those without.2   Recent research indicates that the protective effect of homeownership is also a function the value of the home (i.e., the size of the housing asset).2  For owners with a mortgage on a home of low value (< $120,000), the risk of food insecurity was found to be similar to that of market renters.2 Mortgage-free owners with higher housing asset were the least vulnerable to food insecurity.2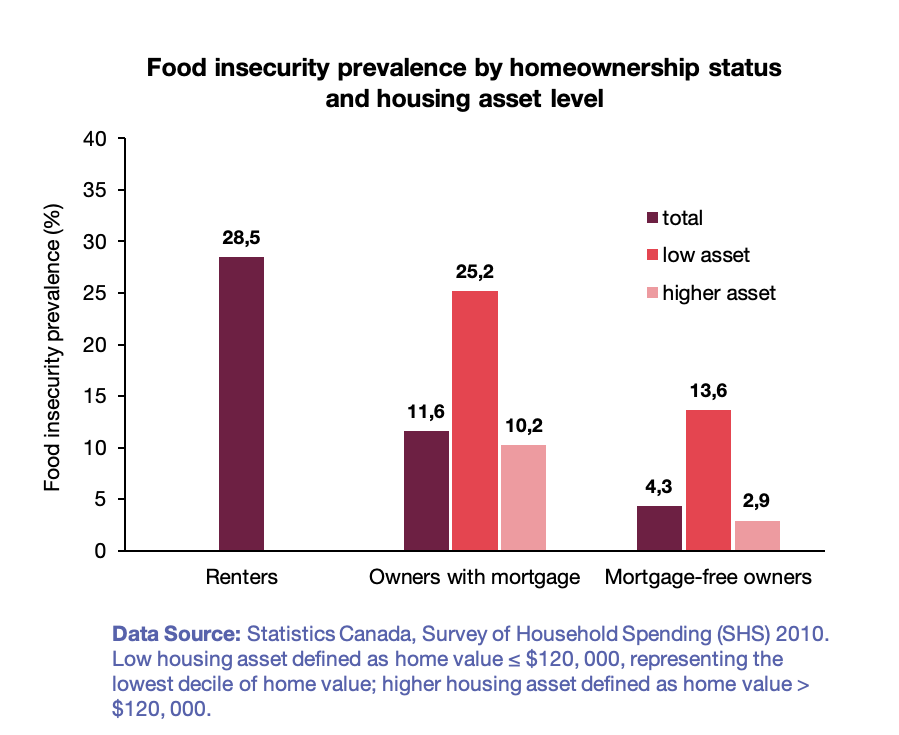 (Fafard St-Germain & Tarasuk, 2020)2
Research has shown that food insecurity can be reduced through public policies that improve the financial circumstances of low-income households.
---
Households with senior's pensions as the main source of income have much lower rates of food insecurity than households reliant on other sources of income, reflecting the protection afforded to seniors through Canada's pension programs (i.e. Old Age Security, Guaranteed Income Supplement, and Canada Pension Plan/Quebec Pension Plan). An examination of food insecurity among unattached, low income (<$20,000 per year) adults found that their risk of being food insecure is reduced by half once they reach the age of 65 and become eligible for seniors' entitlements. Although the income provided through these pensions is still low, it is reliable and well above the amount these individuals would've received through social assistance.4
Federal and provincial child benefit programs have also been repeatedly shown to have a positive impact on food insecurity among families.32, 33, 34, 35 Our most recent evidence comes from an analysis of the Canada Child Benefit (CCB), a federal income supplement program to support households with children under 18.32 The benefit amount for the CCB is determined by the household income, as well as the age(s) and number of children. The CCB was implemented in 2016 to provide greater financial support than the Child Tax Benefit and Universal Child Care Benefit which it replaced. Researchers have found that the CCB reduced the likelihood of severe food insecurity among low-income households with children. However, the prevalence of overall food insecurity for this group remained unchanged.32
Social assistance programs vary among provinces and territories, but being on social assistance anywhere in Canada poses an extremely high risk of food insecurity.1  No matter where we look in Canada, over half of households reliant on social assistance were food insecure in 2017-18, and in some jurisdictions this rate rises above 80%.1 It is important to note that among those receiving social assistance, CCHS does not differentiate between individuals who are welfare recipients and those who are covered under disability support programs. Since these programs have different benefit levels36, the risk for food insecurity likely varies by program, but this cannot be investigated with the current variable in the CCHS.
The poverty reduction strategy introduced by Newfoundland and Labrador in 2006 demonstrates how improving the benefits received through social assistance can have a substantial impact on food insecurity among recipients.37  Between 2007 and 2012, the prevalence of food insecurity among social assistance recipients in Newfoundland and Labrador decreased by almost half. This strategy aimed to tackle the province's depth of poverty and included several interventions that impacted for social assistance recipients, improving their financial circumstances enough to bring many of them out of food insecurity.37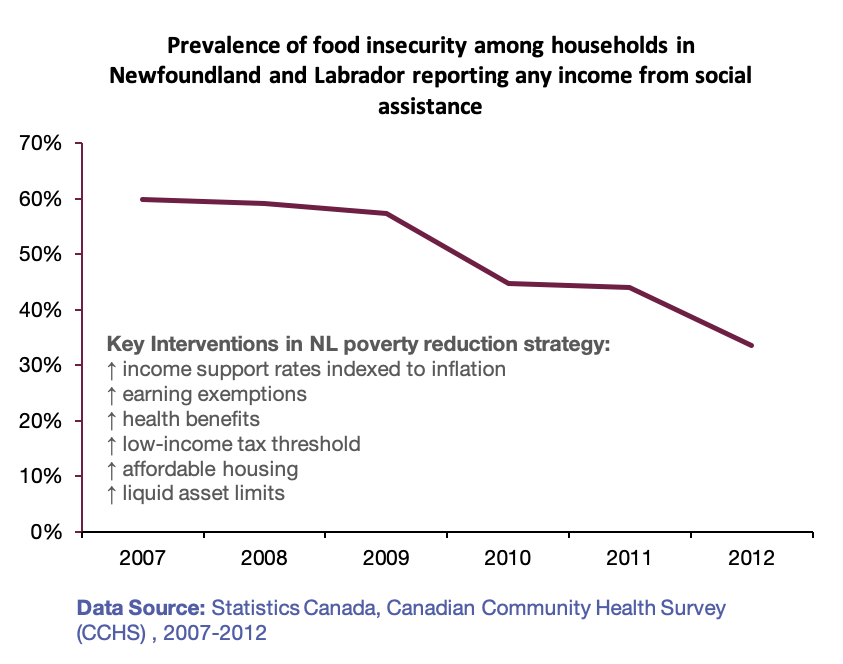 (Loopstra, Dachner & Tarasuk, 2015)<37
None of the policies described here were explicitly designed to address household food insecurity, but they had substantial impact on this problem because they improved incomes for very low-income households. These are the households that are most likely to be severely food insecure, the most toxic state of food insecurity for health and wellbeing. The results here show that when social assistance recipients receive additional income, they spend it in ways that improve their food security. Interventions that provide a modest increase to income can go a long way in addressing food insecurity in Canada.
Unfortunately, Newfoundland and Labrador elected not to measure household food insecurity on the CCHS in the two survey cycles after 2012. Many political and economic changes have occurred since 2012, and according to the most recent data, 14.7% of households in Newfoundland and Labrador were food insecure in 2017-18 and 65% of households reliant on social assistance were food insecure.1 The once again high prevalence of food insecurity among social assistance recipients in this province warrants another analysis to understand what drove this increase. This situation demonstrates that food insecurity is sensitive to policy changes for the better or worse and stresses the importance of un-interrupted surveillance of food insecurity.
Policy action is needed to tackle this serious public health issue.
Through research examining transcripts of provincial and federal parliamentary discussions, also known as Hansard records, it is clear that Canada's elected officials recognize that food insecurity is rooted in inadequate income.38 However, the legislation that they have passed related to the problem has narrowly focused on food charity.39 For example, there are now food donor laws absolving donors of liability for the safety of donated food in every province and territory,40 and several provinces have implemented tax credits for local producers who donate unsold food to community agencies. Food banks also receive support federally, most recently through the Local Food Infrastructure fund introduced as part of the Food Policy for Canada.41
Yet, research has shown that most food insecure households do not use food banks. A comparison on the most recent national statistics indicates a four-fold difference between the number of people living in food-insecure households and the number receiving assistance from food banks. Further, there is no evidence that food charity is able to move households out of food insecurity.42, 43 It is very common for people who have received help from food banks to report needing still more food.44 Many food bank directors are also quick to acknowledge that the people they serve need more food than they can provide.45
While civil society groups continue to do their best to help those struggling with food insecurity, there is wide consensus that the government needs to take action on food insecurity through income-based interventions. Organizations like Food Banks Canada, Feed Ontario, Community Food Centres of Canada, Food Secure Canada, Dietitians of Canada, Ontario Dietitians in Public Health, and many more are all calling for policies that address the root of food insecurity.
References