What are the implications of
food insecurity

for

health and health care?
Food insecurity has serious implications for people's health and wellbeing beyond just poor nutrition and diet. And as a result, it takes a serious toll on health care resources and spending. This page summarizes research on the relationship between food insecurity, health, and health care.
Household food insecurity is a serious public health problem because it is so tightly linked to adverse health outcomes, above and beyond the influence of other social determinants of health.
These include poorer diet in both children and adults and increased risk of diet-related diseases like diabetes, but also a wide range of other problems beyond nutrition.[1][2]
Adults living in food-insecure households are more likely to also experience infectious diseases,[3][4] poor oral health,[5] injury,[6] and chronic conditions, like depression and anxiety disorders,[7][8] heart disease, hypertension, arthritis, back problems,[9] and chronic pain. [10] They are also more likely to be diagnosed with multiple chronic conditions.[9] The negative implications for health are greatest for those living in severely food-insecure households.
While much of our understanding of the association between food insecurity and health comes from cross-sectional surveys, prospective data indicate that food insecurity puts adults at greater risk of developing serious chronic conditions. Research using data that followed adults for over 10 years found that adults living in food-insecure households were more likely to be diagnosed with diabetes later in life.[2]
People with disabilities appear to be disproportionately affected by food insecurity. Mobility impaired adults in Canada have higher odds of food insecurity even after taking into account differences in socio-demographic characteristics.[11]
Food insecurity also makes it difficult for individuals to manage existing health problems and it can lead to worsening conditions.[12][13][14][15] Food-insecure individuals may struggle to adhere to therapeutic diets and forgo necessary medications because of the expense.[16]
Nearly half of adults living in severely food-insecure households reported delaying, reducing, or skipping prescription medications because they couldn't afford them.[16] Cost-related medication nonadherence is associated with worsening health and greater use of health care services.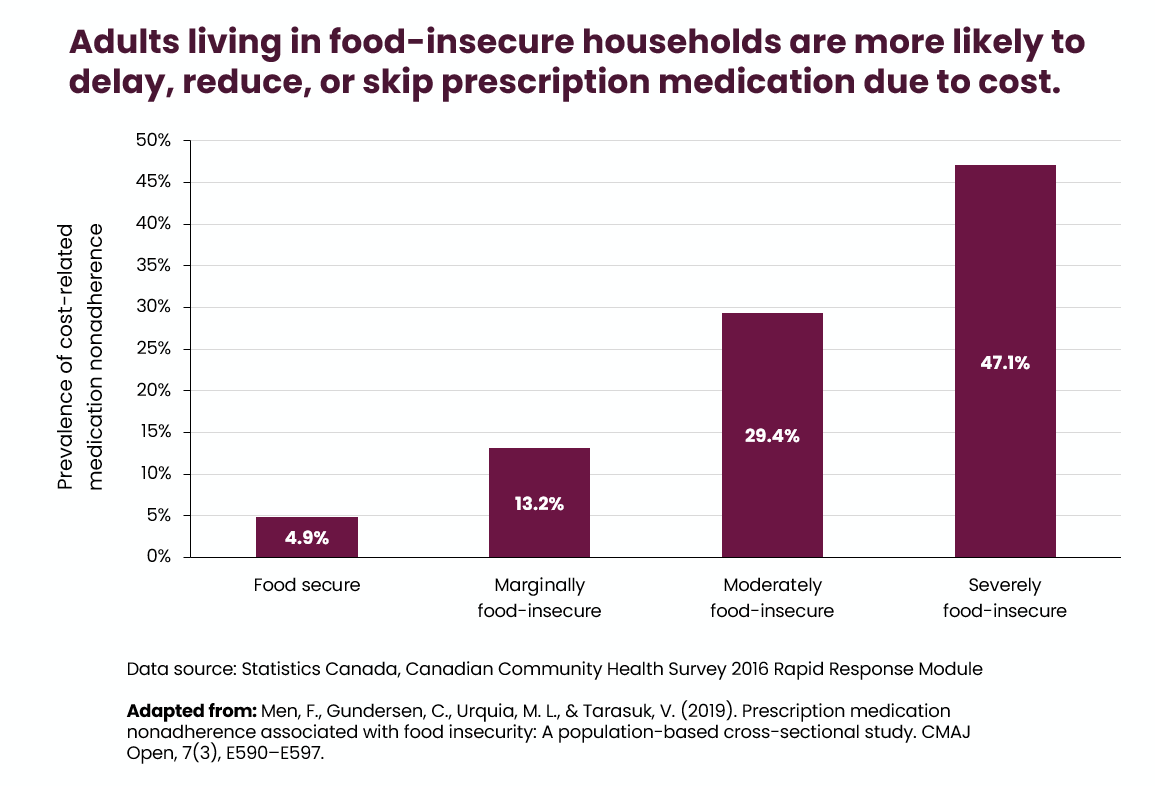 Food Insecurity and Mental Health
There is a particularly strong relationship between food insecurity and poor mental health. The risk of experiencing depression, anxiety disorders, mood disorders, or suicidal thoughts increases with the severity of food insecurity for adults and youth.[7][17] New mothers in food-insecure households are also more likely to be treated for postpartum mental health problems.[18]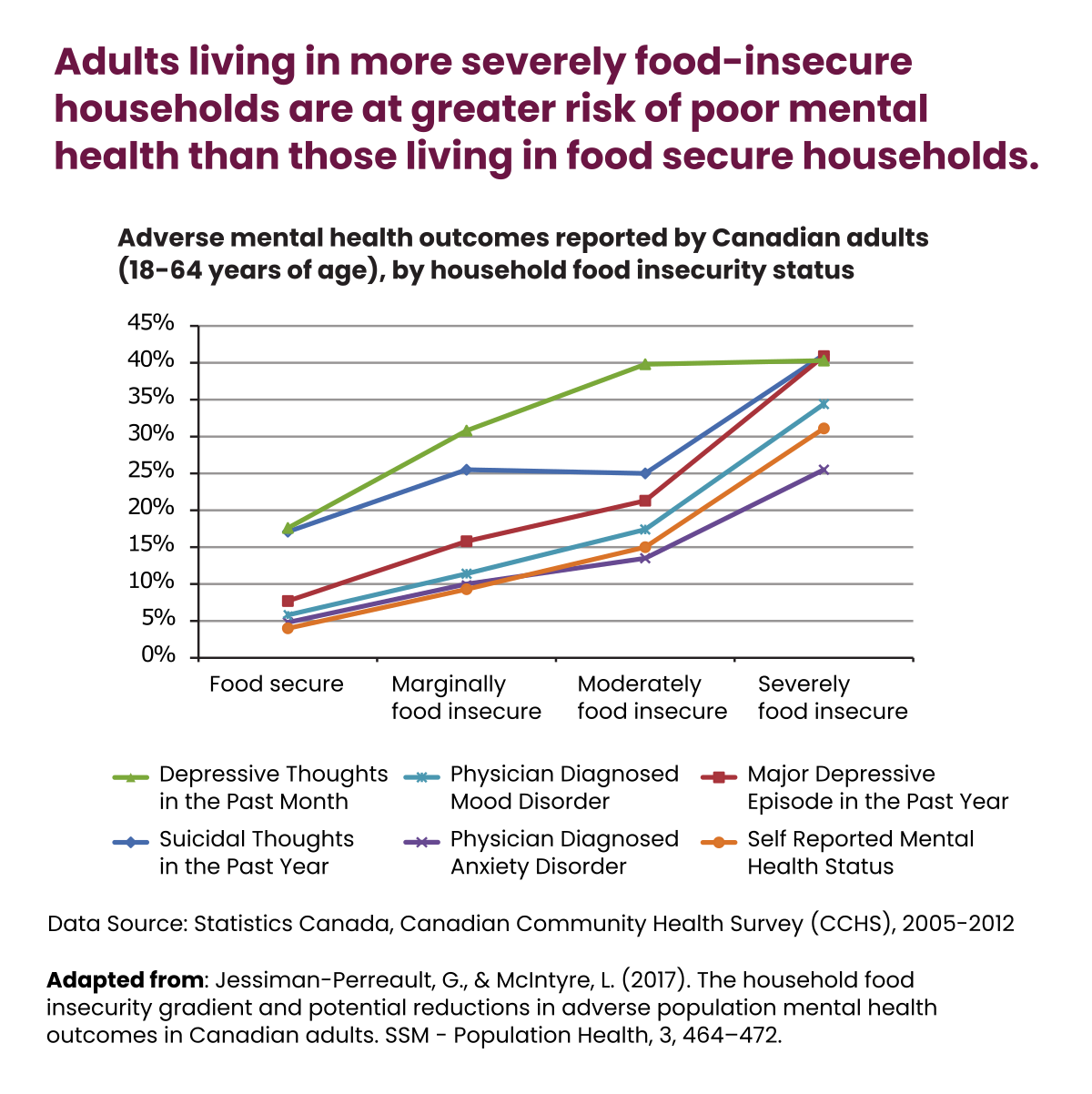 Food insecurity leaves an indelible mark on children's wellbeing. Experiencing food insecurity at an early age is associated with childhood mental health problems, such as hyperactivity and inattention.[19] Exposure to severe food insecurity (measured as child hunger) has been linked to increased risk of developing depression and suicidal ideation in adolescence and early adulthood.[20][21][22]
Even in food-insecure households where experiences of food deprivation are reported only among adults, children still have higher risk of anxiety disorders and poorer mental health than those living in food-secure households.[23] These findings help illustrate the profound health inequity associated with food insecurity and the broader material deprivation it denotes.
Food Insecurity and Mortality
Premature mortality is among the most serious health consequences of food insecurity. Adults experiencing food insecurity are more likely to die prematurely (i.e., before the age of 83).[24] Among those that do, severely food-insecure adults die an average of 9 years earlier than their food-secure counterparts.
Severe food insecurity is associated with higher risk of premature mortality of all causes except cancers.[24] Non-communicable diseases account for the great majority of premature deaths in Canada, and this is true irrespective of one's food insecurity status. However, they appear to take a greater toll on the food-insecure.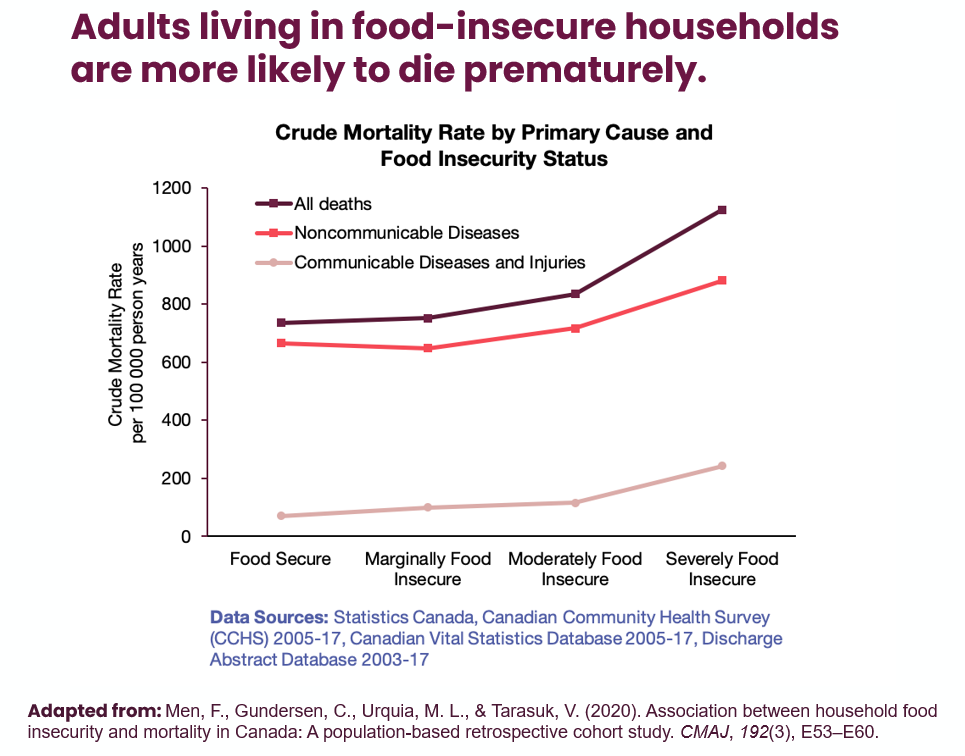 Food insecurity and Health Care
The health consequences of food insecurity put a large burden on our health care system and are costly for our public health care budgets.[12][25][26]
Adults in food-insecure households are more likely to be admitted into acute care for a wide array of reasons. They also stay in hospital for longer and are more likely to be readmitted.[26]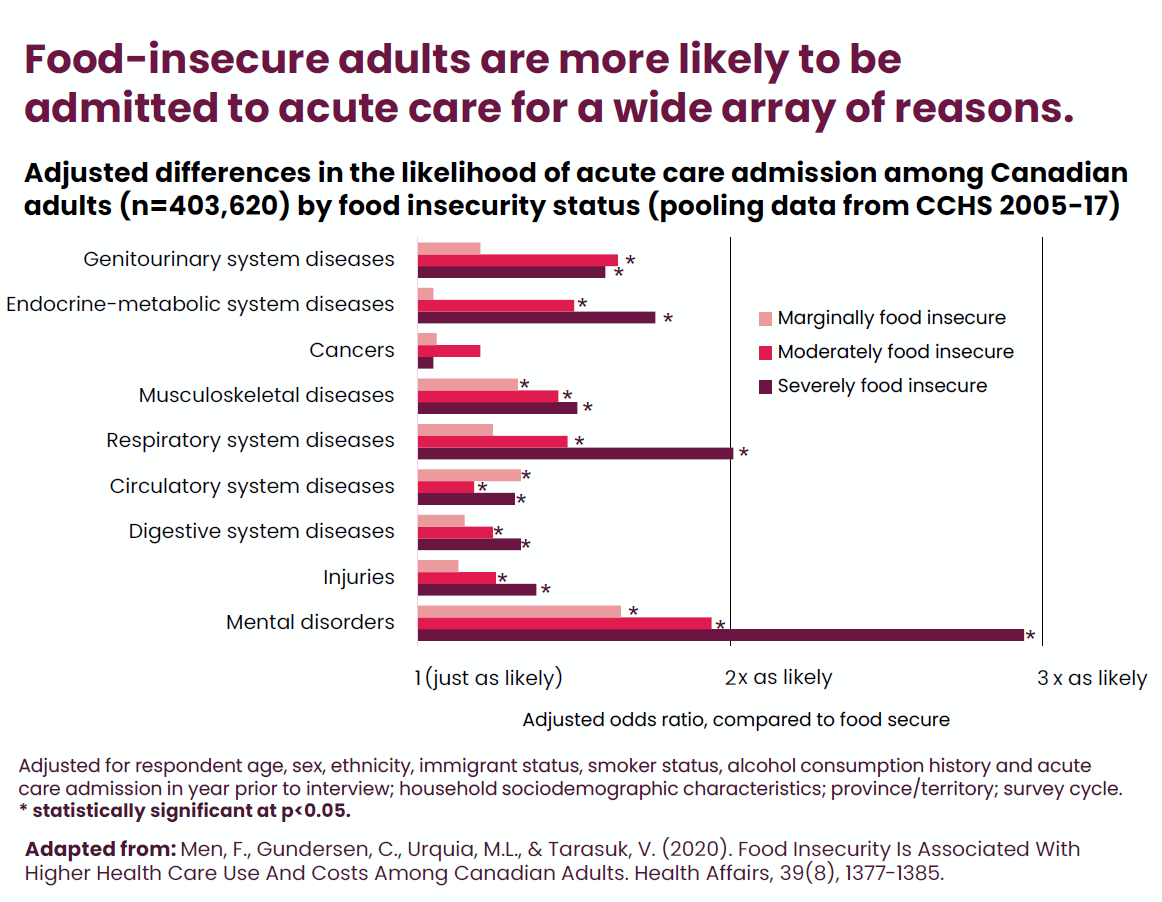 Research from Ontario shows they also account for a disproportionately large amount of mental health care use, including emergency visits and hospitalization for mental health problems.[12]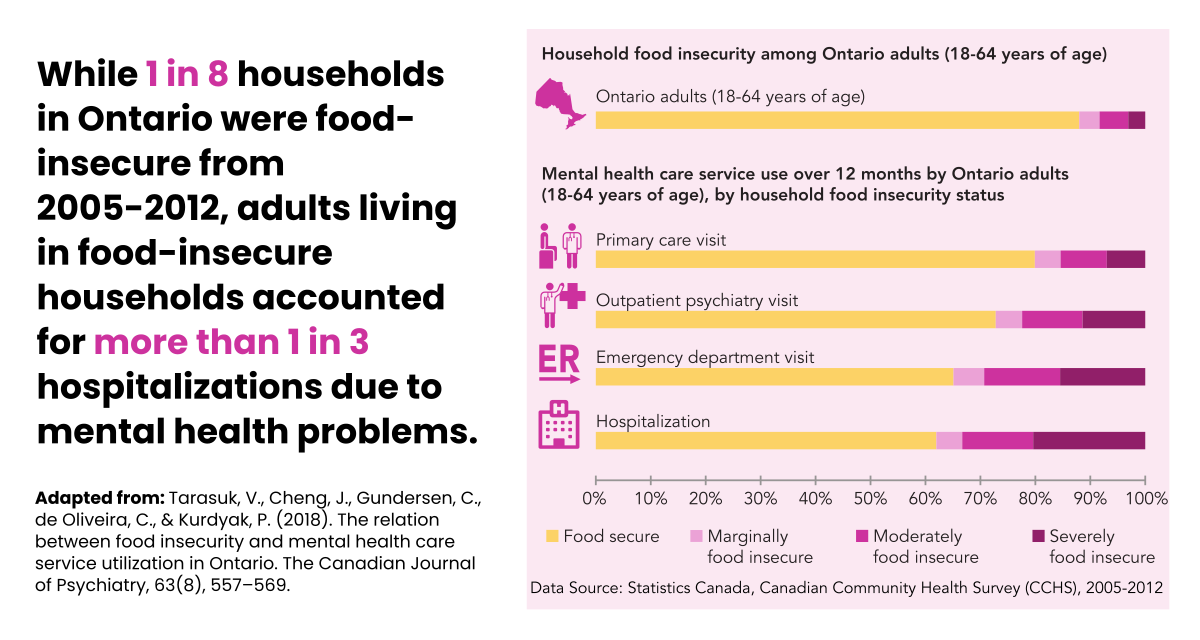 The increased healthcare utilization translates to greater healthcare costs incurred by food-insecure adults, especially the severely food-insecure who face the highest risk of negative health outcomes.
Our research on health care expenditure in Ontario found that health costs incurred by an adult increase with the severity of household food insecurity.[25] Even after adjusting for other well-established social determinants of health, such as education and income levels, the healthcare costs incurred by a severely food-insecure adult in Ontario were more than double that of a food secure adult.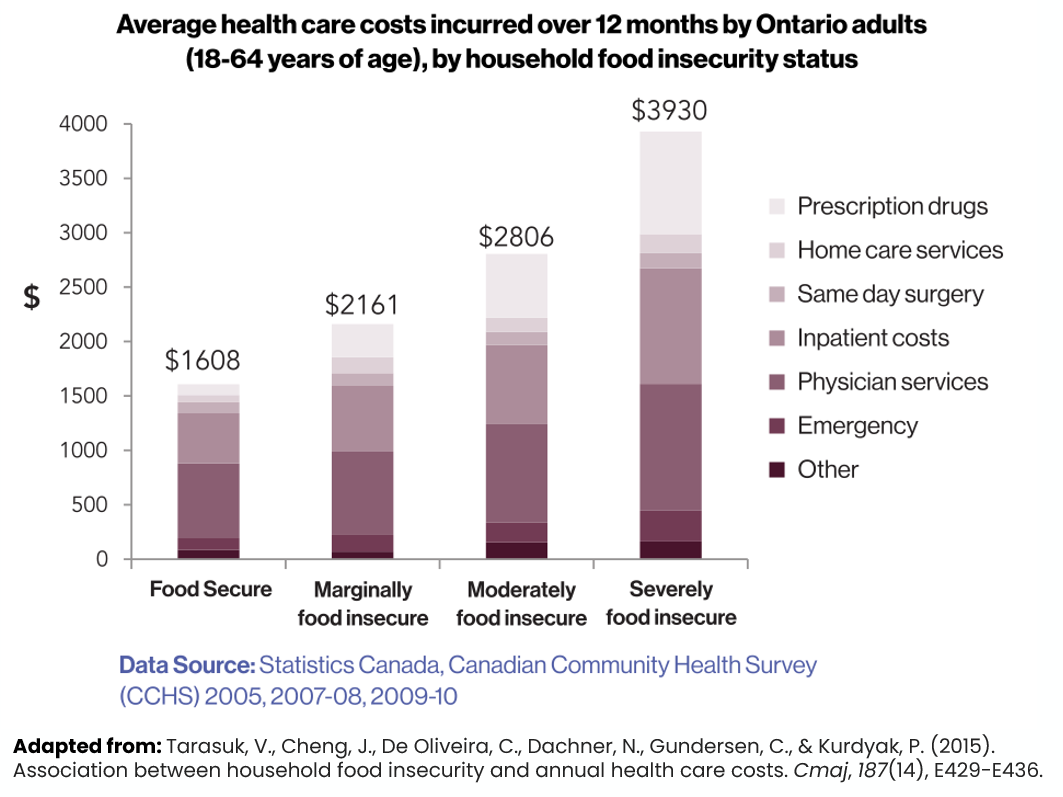 Reducing food insecurity could offset considerable public health care expenditures and reduce the burden on health care resources.
References